For many people taking a shower means relaxing and taking care of themselves, but it's also the place where the best ideas may come. For many others the shower is their morning "wake up call": they reach it with their eyes still closed to get ready for the day ahead.
The shower is a very important part of the bathroom and choosing the right one is never easy. The choice depends on the space you have, what you need and what you like.
If you have enough space and you are looking for a modern shower with clear-cut lines, that will become the focus of your master bathroom, a walk–in is certainly the right choice for you. It's big enough to fit in a few accessorizes that can improve the quality of your relax and to complete the look of the whole bathroom.
If you don't have enough space, a corner or round shower is the right choice for you; often the corners are the most difficult spaces to use that's why it can be a smart idea to place a shower there. If your budget and time are limited, making the best out of an existing tub can be a good compromise.
The choice has been made, now what? Now other factors need to be taken into consideration: the wall (glass or acrylic), the optional treatment for the glass, Neverdrop®, the finishings for the panel and for the profiles. It surely is useful to considerate maintenance for the new shower: is it easy to clean? What kind of cleaning products can I use? Is the material long lasting?
First of all, TDA's products need to accomplish our strict standards and controls, to certify their integrity and conformity. Our shower walls meet the European standards EN 14428:2015 and are marked CE. The glasses are tempered according to this very same standard.
The Choice of the shower walls and profiles
TDA offers a wide choice of shower walls, according to the finished look you are looking for and to the type of shower you chose: Extraclear, Clear, Satin, Fumé, Reflex, Acrylic Satin and many other finishings and decoprintings.
The profiles are made with high quality materials. They are mostly made of aluminium, while for some models they are made of steel. Raw aluminium is subject to anodization process or painting. By anodization we obtain bright finishes such as Tcrom®, Tbrill® and Metal while all the other colours are painted, so it's possible to have the same colors of the furniture and accessorizes in the room.
Glass Kit. Neverdrop®
Nevedrop® is the special kit, created by TDA. A protective solution made of organic and inorganic nanoparticles, that build a thin and clear film on the surface of the treated glass. It's an anti-scaling wet wipe which prevents water from drying on the glass surface, thus facilitating cleaning (it only takes a wet rug, no need to use specific cleaning products).
The Material for the inside of the shower
We already told you something about Arock®, TDA's composite material, in the blog article about Arturo and Aurelio, our shower trays https://blog.tda.it/en/shower-trays-made-of-composite-material-arock/ This same material is used to make wall panels called AlMuro. These panels will allow you to create a combined look in the whole room, moreover the installation is easy, quick and safe.
Cleaning and maintenance
To make your chores easier and faster, as well as safe and accurate, many of our shower walls (like, for instance, Ottavio) come with a handy quick unlockable door. To keep the wall as good as new, no matter how many times you use it and how hard the water is, it's advisable to repeat the Neverdrop® tratment (the kit is for sale and available), it's easy.
Vito e Ottavio. TDA's new models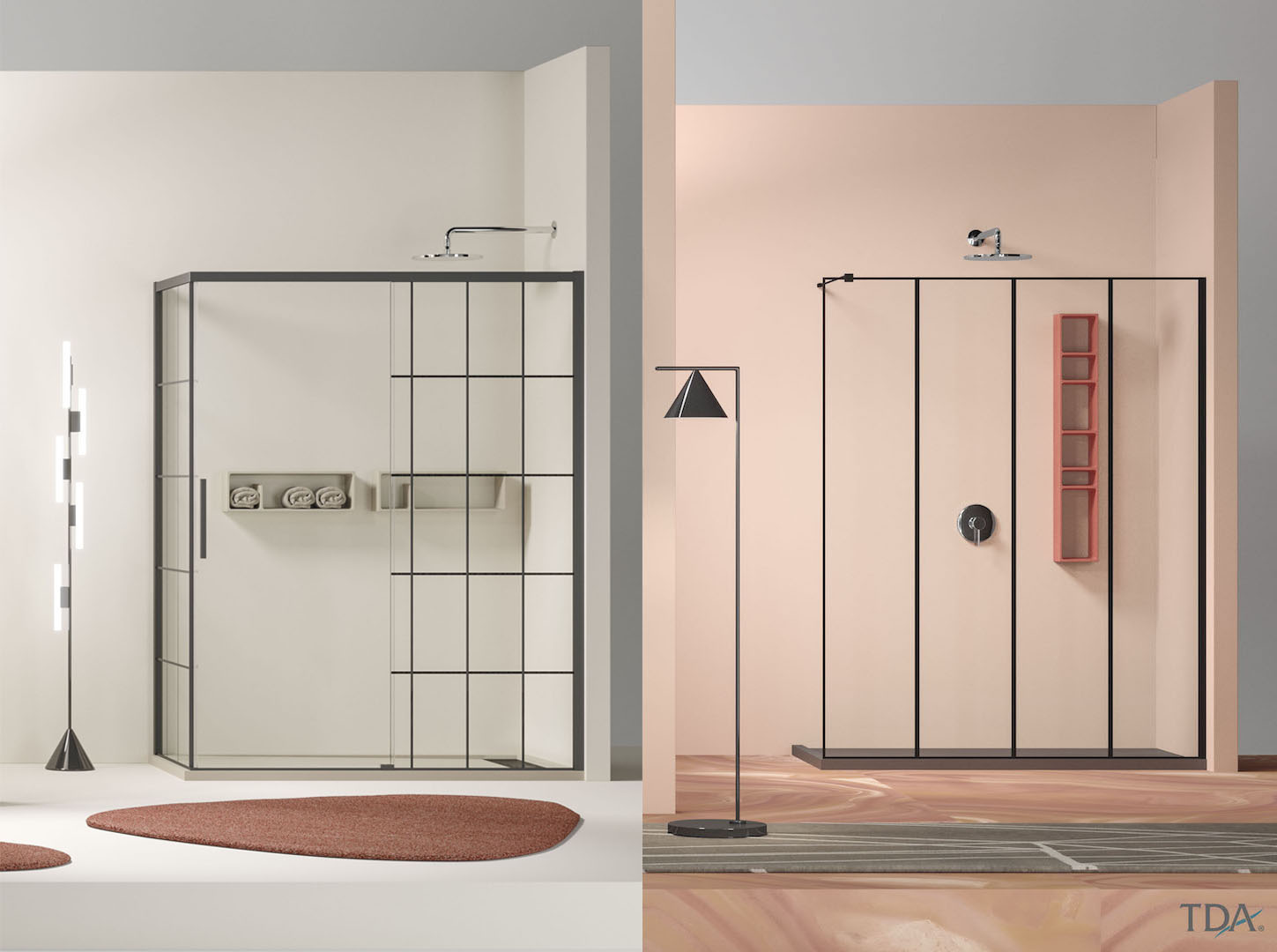 Inside TDA's big family Vito and Ottavio stand out.
Vito is a modern and attractive shower wall. It's glass comes in two different options, 6 or 8mm thick, and it can be chosen with the new and elegant decoprinting Atelier, trendy and minimal, perfect for those who are looking for a minimal looking shower, but not without the "wow-factor".
Ottavio has rigorous lines, its side and upper profiles take up minimal space, there's no profile on the ground.
This fascinating, innovative model can be installed in a niche or in a corner. The sliding door has an 8mm thickness, it has a magnetic closing system and it comes with a clever quick unlockable door, with makes cleaning it way easier. Ottavio's look can be completed by the many different available finishings (TCrom®, Total Black, Total White, TDA's color palette colors) and glasses (extraclear, clear, fume and decoprintings).
Ottavio. Installazione ad angolo

Vito. Walk-in