1. You describe yourself as an "Industrial Designer" and in the last few years people have been talking a lot about "industrial" to describe a certain mood. What's your definition of Industrial?
Tomás Maldonado, artist, designer, philosopher and academic, founder of the first course of Industrial Design in a public Italian University, the Politecnico of Milan (where I got my degree in Industrial Design) gave this definition:
Industrial design is a creative activity whose aims is to determine the formal qualities of objects produced by industry. These formal qualities are not only the external features but are principally those structural and functional relationships which convert a system to a coherent unity both from the point of view of the producer and the user. Industrial design extends to embrace all the aspects of human environment, which are conditioned by industrial production.

"Industrial", as in the style, is another thing, which has got nothing to do with industrial design. It rather defines a space, a product or a lifestyle that take the world of industry as an inspiration (architectures, hydraulic and electric systems, windows, furniture, lighting, colors…)
2. A project that you will always cherish and why
I can most certainly say that it's a project that dates back to 1997, when I finished third in the contest "Young & Design" with my "Idolga" Kitchen. It was the first time that the jury awarded a modular solution, instead of a design piece and I was really proud.  
3. What do you love the most about your job?
When the buyer sends me a brief, jotting down the concept takes a few days. Testing, on the other hand, can take a lot more time, even months. In the end you get to the first result: the prototype. This is the part of my job I enjoy the most: when the idea takes form and it becomes a product.
4. How would you describe Adelmo and what's the most inspiring aspect of this project?
In this case TDA's instructions were to create a new shower tray, so I had carte blanche (which can also be scary), but I found some main ideas to build my project on. I wanted a non-slippery surface (many companies do this), but I also wanted to solve the problem of water flow. That's why I came up with the idea of a perimetrical flow, so that the surface would remain as dry as possible (and safer, too). Naturally Arock®, with its fantastic features, made it feasible, and allowed me to create a shower tray with a minimal design, exactly as I like. 
5. You've already worked with TDA in the past to design Dino. How was teaming up with TDA again?
Well, I was clearly happy to work with TDA again, as we achieved great results during our last collaboration. In this company the professional and technical aspects are as important as human relations. This created a great synergy, which I find really important to carry on a project and a collaboration.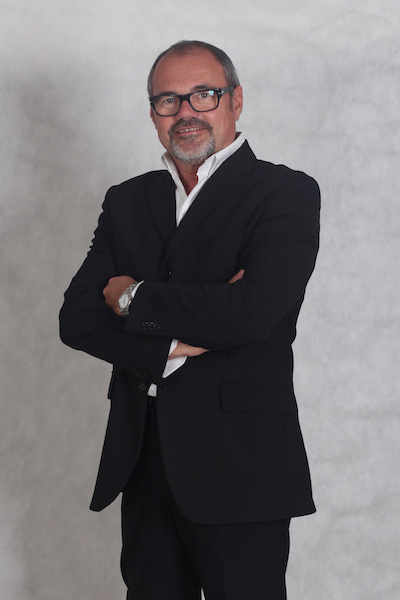 6. What do you think about new materials and production techniques?
I approve of new things that the market has to offer; many new products come directly from the application of features of new materials or innovative production techniques, which can offer possibilities that before weren't even possible. People must see the bigger picture: new products must be compatible with its target market; high production costs may ruin it all and it's important to keep that in mind. 
7. How will the role of designers change (and how has it changed in the past year)?
The role of designers doesn't change, people's habits and needs, as well as materials and problems, do. In a word: it's society that changes. Well, a good designer must see these evolutions to create products and services that can be used and precede market demands.
8. You work with Politecnico di Milano. What will make the new generation of Italian designers stand out?
The new generation of designer will have to work on recycling, conversion and reusing of products and materials. They will have to understand the changes in society and the new sensibility towards environment and sustainability, keeping up with a world that's constantly evolving and changing…
The advice I'd like to give them is to capture the expertise and know-how of good craftsmen and treasure their teaching for their future projects and jobs.
9. Which projects and books have had a strong influence on the way you see and think Design? How do you keep yourself up-to-date with the latest trends and which ones do you think are destined to last for a long time?
I owe much to history books and to the Masters of Design, I couldn't pick a book nor a project, but I consider myself curious about everything that involves my work as a designer. I visit international events, I read books and magazines and I scroll social media, to know what's going on in the world of design. I also attend art exhibition (both classic and contemporary), to broaden my horizons. I owe a lot to craftsmen and suppliers, with their extensive know-how; I love being a mediator between them and the companies and be part of the creation of new synergies, new experiences and new products.
As far as trends go, I'm aware of the new ones, I study them and I try to understand them, even though I think they belong rather to the marketing and communication branches. Many products have been updated with new colors and new graphics, but they are still selling. That's why I believe in beautiful, well-made and functional products, things that last and that aren't affected by temporary trends.
10. What are your goals for the years to come?
I'd like to keep doing what I'm doing right now: coming up with ideas and presenting them, maybe even outside of my field, which is furniture design. I think that design could find its space in every company -of any product sector-, even more so in those that think that they don't need it, because only design can mix beauty and functionality.

Hopefully I'll be able to do it.