Shower trays are one of the elements of our bathrooms that have changed the most in these last few years; an evolution that has followed, step by step, global trends and technical innovations and discoveries. In this post, we'll have a closer look at these transformations, trying to understand them better.
Technical innovations
In recent years the methods and construction materials have changed a lot. This change could very well be the latest and most important of all: ceramic has been replaced by resins and composite materials, which are hygienic, easier to set, maintain and clean.
TDA's R&D department has created Arock®, a composite material made of polyester resins and high-quality natural minerals (carbonated Botticino marble of different sizes), improved by a layer of gelcoat used for naval applications. This layer makes TDA's composite resistant to chemical agents, to bacteria and wear and it can be colored in many different fashionable hues.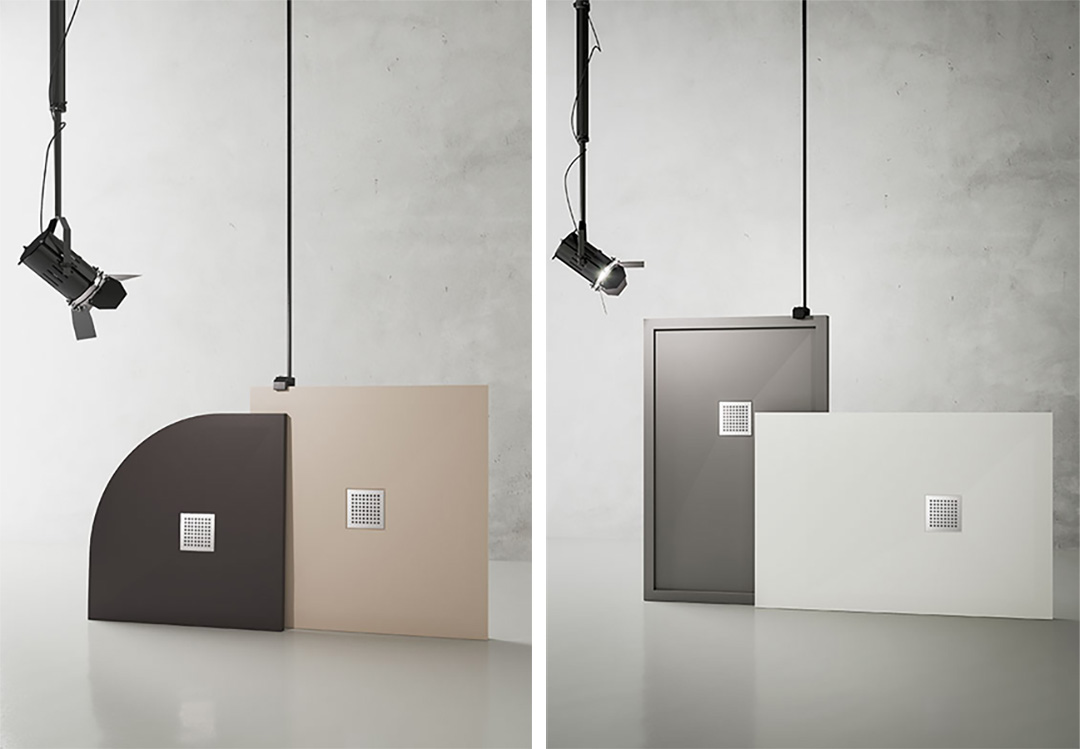 Besides shower trays (discover Arturo and Aurelio), TDA uses Arock® also for the front panels of cabinets, washbasins -we offer both tabletop and recessed basins-, bathroom furniture and wall panels. Unlike other materials, Arock® allows us to do custom cuts when placing a shower tray, to get non-standard measurements and shapes. The finished effect of this surface, know as soft-touch, has anti slipper certification and it's never cold, which is particularly appreciated by those who hate feeling cold.
Thanks to the wall panels and other accessories and bathroom furniture, made using the same material, to get a coordinated look in the bathroom: the aesthetic effect is high level, as per technical requirements.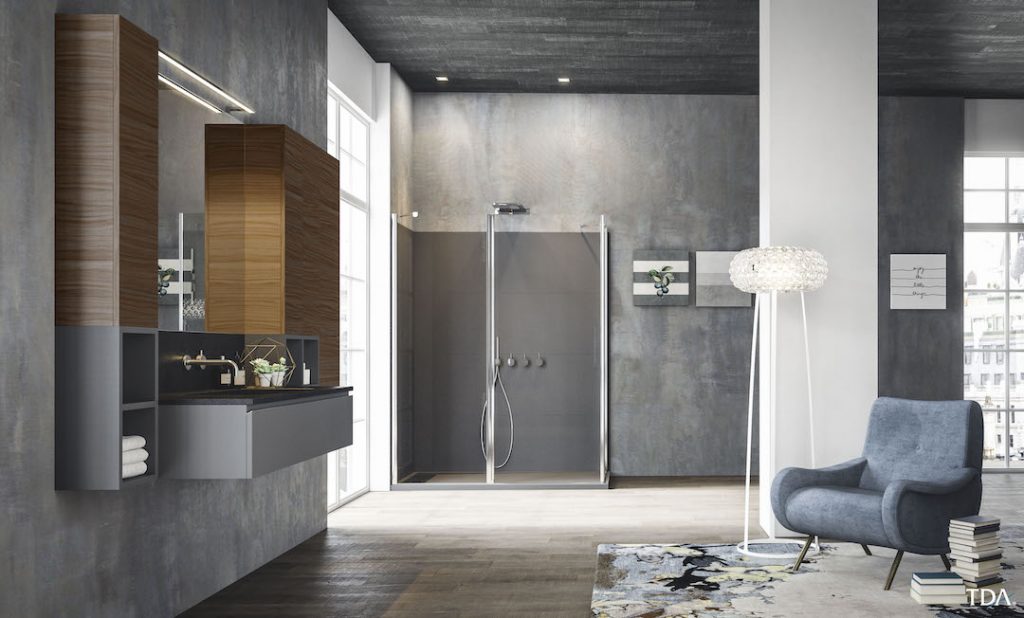 Trends and design inside the bathroom
Trends are always changing, and that's obvious. One of the latest has seen many people trade their shower-tub for a proper shower. An intervention that's apparently easy and that by itself can change the entire look of the bathroom, thanks to a variety of styles and types of shower walls available. If comfort and space are a must for you, you can choose a walk-in, a perfect solution that offers freedom of movement, easy maintenance and a modern, linear, captivating design. Arturo and Aurelio are extremely easy to set when they substitute an existing tub; as a matter of fact TDA's shower trays can be placed directly on the floor, so replacing a tub requires less money and time.
Rocco, walk-in shower wall
Here we are, talking about another big change that we've seen lately: the installation of shower trays. Many people have been asking for a shower tray installed flush with the floor. That's a versatile solution that gives a linear look to the whole bathroom, making it aesthetically pleasing. Moreover, this installation doesn't create obstacles on the floor, which makes it a safe and accessible choice for kids, elderly and disabled. Arock® shower trays can also be installed over the floor and it doesn't require floor work.. Cleaning and maintenance are easy and quick, which makes our trays simply irresistible.